Accident takes Aleix and Bradley out of the race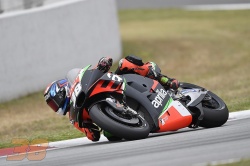 Posted on Jun 17, 2019 by Aprilia Racing Team Gresini
In a race conditioned by numerous crashes, a contact in a braking section took both Aleix Espargaró and Bradley Smith out of the action in the early stages. The Spanish rider, who returned to pit lane in pain, is now undergoing further checks to assess the condition of his left knee.
In the early part of the race, Andrea Iannone set a good pace, making up ground on the central group. The Italian rider then struggled a bit with a drop in performance, probably attributable to tyre wear, hindering his comeback. Aided by the DNFs, in any case, Andrea finished eleventh.
Bradley Smith:
"I'm sorry about what happened today, even more so because Aleix was involved. Unfortunately, in that braking section the situation was a bit chaotic, as often happens during the first laps. I hope he will have a quick recovery. Right now, we need to work with our full potential to develop the RS-GP".

Massimo Rivola - Aprilia Racing CEO
"This is undoubtedly a difficult time for us and Aleix's injury is the most pressing issue right now. He is a supporting pillar of our team and we hope to see him back in the saddle as soon as possible. Even more disappointing is the fact that it was Bradley who caused the crash, who is working on developing the bike. These episodes should not occur. Andrea rode a good race, positive in the early stages and then dropping off toward the end, probably due to tyre wear. We are making significant efforts to grow our project, but at the moment, the results are not very comforting. We have an important test tomorrow for development in view of the future and this injury was the last thing we needed, but we are absolutely united in our determination to reverse the trend. It does not matter who hard and how long we need to work. We'll get there."