An Evening with Freddie Spencer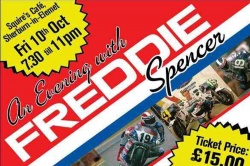 Posted on Oct 04, 2014 by George Penny
Frederick "Freddie" Burdette Spencer known by the nickname Fast Freddie, is an American former World Champion motorcycle racer, regarded as one of the greatest motorcycle racers of the early 1980s.
Chris Berriman from Merit Merrell (one of Bradley's personal sponsors) along with two colleagues have arranged for Freddie to talk at the biker friendly Squires Cafe with stories and anecdotes about his racing career.
On display will be Freddie's original 1991 Two Brothers Racing Honda RC30 and a replica of his championship winning RS250RW.
For more info and tickets check out www.squires-cafe.co.uk