Another positive and productive day for Smith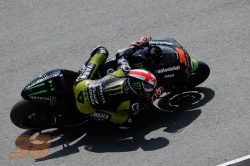 Posted on Jul 13, 2013 by Monster Yamaha Tech 3
Bradley Smith enjoyed another positive and productive day and he managed to improve his pace by almost 0.5s in the decisive qualifying session.
A best lap of 1.22.758 secured him a top 10 finish in practice and in full time attack mode in qualifying he was able to drop his pace down to a 1.22.297 that secured him seventh position on the grid.
Smith was just over 0.9s off pole position and a second successive start from inside the top six only eluded the 22-year-old by 0.140s. Smith's main objective in tomorrow's race will be a fast start, with the tight and twisty Sachsenring track hard to overtake on as the British rider goes in search of a sixth straight top six finish in his impressive rookie MotoGP season.

Bradley Smith 7th 1.22.297 – 10 laps:
"Seventh position is a great result and to do a 1.22.2 was a bit of surprise. We still need to work a bit more on my confidence and understand the Bridgestone tyres a bit better. They work really well at this track and it is a case of understanding how much you can push them. For the race tomorrow the start will be so important. The track is so tight and twisty that the first three laps will be vital to achieving a good result. Hopefully we can improve the bike but I feel for the full race distance we are in a good position and I am happy with the set-up. I just need to make sure we can put in a consistent pace because it will be a very long race."