Aprilia, starts off with three riders in the opening race at Qatar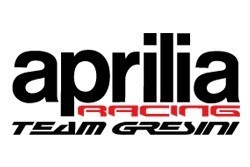 Posted on Mar 07, 2019 by Aprilia Racing Team Gresini
By now, we are counting down the hours to the start of the 2019 MotoGP World Championship, one of the most anticipated of recent years.
The artificial lighting of the Losail International Circuit is ready to illuminate the opening race on Sunday, but the engines will already be rumbling from Friday for the first free practice sessions.
For Aprilia, it will be a true "first time" with three RS-GP machines on the grid for the first race. This is something that has never before happened in Aprilia history and it is a sign of the revamping that the Italian manufacturer carried out on their MotoGP project during the winter break.
Revamping that included changes in Aprilia Racing both in technical terms and with regards to the staff, with the clear goal of substantiating their ambitions in the premier class.
Dressed in an attractive new black livery, which is a clear reference to Aprilia tradition, the RS-GP tackled the pre-season tests with good feedback both from confirmed rider, Aleix Espargaró and new entry Andrea Iannone, assisted by the work Bradley Smith and the test team carried out. It is a three-point offence that will be complete in Qatar, thanks to the English rider's first wild-card of the season.