Aspar riders take another double podium in Estoril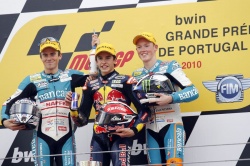 Posted on Oct 31, 2010 by Pixel Pixel
The 125cc Portuguese Grand Prix began at 3.30pm local time in Estoril, but it wouldn't be the last time that the lower cylinder category riders took to their grid positions. The rain that had been so prominent in the previous two days of practice made an unwelcome return just as the 125cc contest was kicking into gear, with conditions sufficiently dangerous to lead to the showing of a red flag. After gathering their thoughts, the riders had to prepare for a sprint race for the win in Portugal, but some were over-eager before the restart. Marc Marquez crashed on the formation lap and had to begin the abbreviated second race from last on the grid.

Nine laps decided victory in Estoril, and the winner's trophy went to the phenomenal Marquez. Terol and Smith had started from first and third and were using slick tyres, and looked good bets for the win, but Marquez eventually passed Terol on the last lap to end the day's action in Portugal.

Nico Terol arrived in and left Estoril with a shot at the 125cc World title, and his hopes remain alive despite Marquez' win. He had an excellent second race and showed no fear in taking on the unknown, riding lines at the front of the pack that had gone untouched since the red flag. Helped by teammate Bradley Smith, Terol led the second race for almost the entirety of its nine laps, but was passed late on by Marquez to relegate him to second place.

Bradley Smith also had a fantastic second race for the Bancaja Aspar side, and was selfless in his mission of helping his teammate out. He tried to hold up Marquez and resisted an attempt to break away at the front of the race, keen to pay back the sponsors and team members who have supported him this season. He ended the day with a podium to his name, and an enhanced reputation as one of the World Championship's most professional riders.

3º Bradley Smith: "It was a very exciting race, as well as a difficult one. The suspension of the race, strange conditions and crashes made it essential for us to keep calm. On the restart I hesitated a bit, because I didn't want to get involved in the fight for the title and was trying to help Nico. The second race was much better for me than the first, as I had much more confidence on the bike and was riding more comfortably. First time around I was barely keeping up my pace. I think that this is an important podium, above all ahead of Valencia, which is my team's home race. There will be lots of fans and supporters there, so I hope to reward them with another good result."