Bancaja Aspar pair ready to fight for home win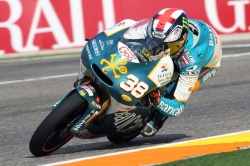 Posted on Nov 06, 2010 by Pixel Pixel
The second day of action in Valencia saw a continuation of the dominance of the top four riders in the 125cc class, with Marc Márquez, Nico Terol, Bradley Smith and Pol Espargaró engaging in a thrilling battle for pole position that intensified in the final ten minutes. With just three tenths separating them at the end it could have gone to any one of them but it will be Márquez who starts from the front of the grid followed by Terol, Smith and Sandro Cortese, who gatecrashed the party in the final seconds.

Bancaja Aspar pair Terol and Smith, continued their good form from yesterday and this afternoon they were separated by just a tenth of a second although the positions were reversed. With the set-up already sorted yesterday today was just a case of getting into a consistent rhythm, which will surely be the key to victory tomorrow.

3rd Bradley Smith 1.39.712 (19 laps): "The chassis setting we have worked perfectly this afternoon and thanks to that I had confidence to push whatever tyre we were using. The gap to the top is only 0.148 seconds, which is practically nothing, and even though I was pushing hard for the final pole of the year Márquez was just that little bit faster today. I am satisfied though and looking forward to a good race. I want to win, we have the pace for it and I feel like everything is under control. I'll give it my heart and soul tomorrow because I want to put on a good show for the team and the fans."