Best qualifying result since the Czech Republic for Smith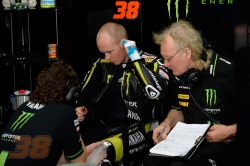 Posted on Oct 12, 2013 by Monster Yamaha Tech 3
Rain showers had fallen on and off throughout today's proceedings and when a downpour fell just minutes before the start of QP2, it looked like the 15-minute session would be disrupted by rain.
Fortunately it was only a very short cloudburst but the session commenced with some corners still damp.
Today's QP2 session was a positive experience for rookie Bradley Smith, who mastered the unpredictable track conditions with supreme confidence to score his best qualifying result since the Czech Republic round in August.
The 22-year-old got a massive confidence in the earlier FP4 session when he set the seventh best time and he took that impressive form into QP2. A best lap of 2.01.306 was just over 0.3s away from clinching a second row start and he will start the physically demanding 20-lap race from seventh position.

Bradley Smith 7th 2.01.306 - 7 laps:
"Today was the first opportunity to see how much I have improved compared to the tests I did here in February. Qualifying was the first time all weekend when I ran low fuel and new tyres like we did in testing and I am happy with the performance to finish seventh. The conditions were not ideal at all and it was a bit sketchy at Turn 6 and 7 after the rain showers. The team though did a great job and I've done some longer runs to check tyre life and I'm happy in that area. We have also improved my feeling with a full fuel load, so hopefully I can have a strong race. It will be hard to fight for the top six but my aim will be to get a good start and go with the leading group in the early stages to try and learn as much as possible. A big plus this weekend has been that we have improved in every session and made good progress with the bike set-up, so I've got more confidence for the race than normal."