Bradley concentrates on race pace at the first practise sessions at Brno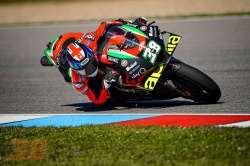 Posted on Aug 07, 2020 by Aprilia Racing Team Gresini
Bradley Smith's performance is one that needs to be examined in detail, since he was one of the very few who did not attempt a time attack with the soft tyre. His gap behind the leader is therefore understandable in terms of the flying lap, whereas in terms of pace and feeling, the situation is rather solid for the Brit.
Despite less-than-perfect grip conditions that have the techs working hard to prepare for the race on Sunday. Tyre wear and consistent performance will be the key factors for the race in the Czech Republic, but without neglecting good performance in the qualifiers.

Bradley Smith:
"Today we focused on gathering some information the engineers need in terms of setup ideas. Aleix tried a few solutions and I tried some others, so now we'll need to analyse the results in detail. I didn't attempt any flying laps with the soft tyres. We'll concentrate on that during FP3 tomorrow morning. The grip conditions are rather critical, which is not surprising since the asphalt is 12 years old by now, and that is a situation that should be discussed in the Safety Commission. For the tyres, the situation is complex. None of the options are perfect, but we'll have to find the best compromise in terms of grip and duration."