Bradley controls wet opening session at Phillip Island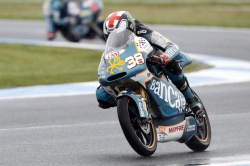 Posted on Oct 15, 2010 by Pixel Pixel
Free practice for the 125cc class was put back two hours from its original slot of 12:40 local time this afternoon following a heavy rainstorm at Phillip Island. Standing water on and around the track, particularly at turn eleven, gave race officials little alternative but once the action got underway there were still several crashes - eight in total - and many more off-track excursions. However, thankfully there were no injuries to report and Bancaja Aspar rider Bradley Smith was able to dominate the session by almost a second over his closest rival, Marc Márquez.

Both Smith and his team-mate Nico Terol made a cautious start to the session as they looked to establish a feel for the conditions and gradually improve their pace. The pair were consistently the quickest riders on track, with Bradley stepping up the pace on the final two laps to confirm his dominance. Terol did not ride for the final eight minutes of the session but still lies fifth on the provisional time sheets.

1st Bradley Smith 1.54.547 (20 laps): "With the circuit in these conditions and the delay because of the rain it is hard to stay focused. I tried to keep my motivation up for when the moment came to get out on track. The bike worked perfectly despite the rain - we just had one little setback because of the cold but we solved that during the session. I had to alter my position in a lot of the corners to make sure I was on the right line but I think I adapted well to the wet conditions. We have finished the day with the fastest time so I am very happy with the result and I think we have a significant advantage over the rest. Hopefully we can continue like this for the rest of the weekend. At the start the track was slippery but as the laps went by and the tyre got up to temperature I felt pretty solid."