Bradley prepares for the biggest test of his life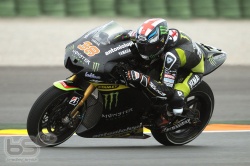 Posted on Feb 02, 2013 by Nick Harris
Bradley Smith is ready and prepared for the biggest test of his 22 year old life when he rides the 990cc Monster Tech 3 Yamaha M1 machine in the opening test of the 2013 MotoGP™ season at Sepang in Malaysia which starts on Tuesday.
For the first time in his whirlwind career he comes up against the legends of grand prix motorcycle racing such as Valentino Rossi, Jorge Lorenzo and Dani Pedrosa in the three day test at the 3.447 miles Sepang circuit.
Three times grand prix winner Smith makes his MotoGP debut at the opening round of the 18 race championship under the floodlights at the Losail International circuit in Qatar on April 7. He has only completed a few damp laps on the 2012 Yamaha M1 machine at Valencia in November. The two three day tests at Sepang and the final test at Jerez in Spain before the opening grand prix will be vital for the Oxfordshire rider who joins, Isle of Man – based Midlander, Cal Crutchlow in the French Tech 3 team.
Smith has a two year contract with the team and knows the experience gained test riding the 200 mph plus Yamaha will be a crucial part of his rookie MotoGP year.
"For the last few years I would race to the computer to check the MotoGP lap times from the Sepang test but this time it's pretty scary because I will posting my own lap times on the screen and not watching from home," explained Smith, who flew to Malaysia last weekend to acclimatise with the heat and humidity at the Sepang circuit. "I'm both excited and more than a little bit nervous because this a big deal for me. From the first to the last minute of the three days I have to keep my brain switched on and do the business."
"I want to build a special relationship with the 2013 M1 Yamaha and the Tech 3 team right from the start. That means riding as many laps as possible and hopefully the rain staying away. I have so much to learn both from the bike and the team and they really whetted my appetite when I completed those few damp laps in Valencia last November. Since then I've been waiting for this day and it's at last arrived. This is the most important test of my life so far and I can't wait."
Smith plans to stay in Malaysia before the second three day test session which starts on February 26.