Bradley sets the pace on wet first day at Estoril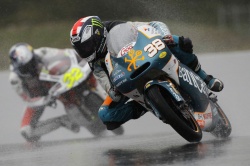 Posted on Oct 29, 2010 by Pixel Pixel
Friday morning free practice returned to the Grand Prix schedule today with the 125cc class taking to the track first at 9:05am, although dark heavy clouds quickly turned to rain and saw the riders retire to their garages for the final ten minutes. The treacherous conditions, which continued in the afternoon, saw a host of riders crash, including Bancaja Aspar man Bradley Smith, although the Briton's pace this morning was enough to leave him with the fastest time of the day.

Smith crashed after losing rear grip in the second turn at Estoril but he was back on track ten minutes later to complete the remainder of the session. His team-mate Nico Terol was the only one of the title aspirants to avoid a crash as he gradually adapted to the conditions. He was also one of the only riders to improve his lap time in the afternoon, when he was third fastest in the wet conditions with a lap that leaves him eighth on the combined time sheets overnight.

1st Bradley Smith 2.00.148 (21 laps): "This weather reminds me of Phillip Island and home too. This morning I crashed just because I was trying to find the limit. Luckily I wasn't hurt but it was a strange one because I wasn't braking or accelerating and the rear suddenly came round. This afternoon I rode a bit more sensibly and tried to get a feel for every change we made. We still need to improve the rear grip but in general I am pleased with my performance. Tomorrow it looks like it will continue to rain so we have to keep working like this to keep our level up. It will be tough because it always is in the wet but it is the same for all of us."