Bradley Smith, determined to bounce back at Silverstone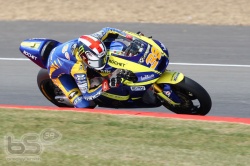 Posted on Jun 11, 2011 by Tech3 Racing
Bradley Smith is determined to bounce back from a challenging qualifying session that left the British rider down in 28th position.
An electrical fault prevented Smith from showing anything like his true potential on the Tech3 Racing's Mistral 610 machine and he was only able to complete seven laps in a session run in dry but windy conditions.
Smith's determination and the quick work of his Tech 3 Racing Team crew ensured the 20-year-old qualified for the 18-lap race as he only managed to get in two fast laps right at the end of a frustrating session.
He posted a best time of 2.10.804 and he's confident he can show off is overtaking prowess to fight for a top ten finish in front of his home crowd tomorrow.
Bradley Smith: 28th 2.10.804 – 7 laps:
"I think just about everything that could go wrong did go wrong and that is frustrating. It wouldn't have been a good time to have these problems at any race, but the fact that we encountered so many issues at my home track makes it a bit tougher to take. It is nobody's fault but we had an electrical issue and at one stage I wasn't even sure whether I could get a lap in that was going to be fast enough to stop me being last or even qualifying. We have to look at the positives and before this afternoon I've been strong and competitive. And my mechanics did a great job because they got me out on track for the maximum time possible. Right at the end I was able to get two laps in, so at least we are not starting from last. Now we just have to wait and see what is going to happen with the weather. I'm confident in the wet or dry but starting from 28th is going to make it a difficult challenge. But I've shown many times this season that I can be aggressive and make lots of overtakes, so hopefu lly I'll put on an exciting show for the British fans."