Bradley Smith #38 Official Sticker Sheets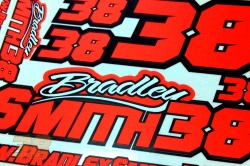 Posted on Aug 24, 2016 by George Penny
Silverstone is just around the corner, so show your support for Bradley with these '#38 Official' sticker sheets.
The sheets are A5 in size and feature Bradley's number, logo and website. Printed in 3 colours including Bradley's 'orange', they are coated with a petrol resistant varnish and kiss-cut into various sized individual stickers that can be used for many different applications.
Stick on your motorcycle helmet, bike, car, phone, laptop case etc and show your support!
Click here to by now!