Bradley Smith and ONE Energy Racing among FP1 frontunners at Valencia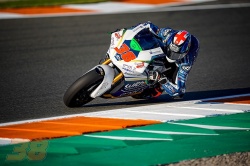 Posted on Nov 14, 2019 by One Energy Racing
MotoE World Cup action got underway a day early for the final event of the year, with Free Practice 1 at the Ricardo Tormo Circuit taking place on Thursday afternoon. ONE Energy Racing rider Bradley Smith had a good feeling onboard his MotoE bike during the nine laps that he completed in the session, finishing in second position on the timesheets and showing a solid pace, as well as undertaking a long run with promising lap times.
The first MotoE World Cup session of the weekend began at 4:25pm local time. Smith was one of the first riders to take to the track, and from the outset he was comfortable on the ONE Energy Racing machine, setting the fastest of the opening laps. The Brit clocked a best time of 1min 41.826secs, only 2 tenths off the top lap of day.
Smith will be back on track tomorrow for FP2, which will take place at 11:50am, followed by E-Pole at 4:05pm. The two races scheduled for the last event of the 2019 MotoE World Cup will be held on Saturday at 4:15pm and Sunday at 10:05am.

Bradley Smith:
"We're happy, bearing in mind that we only had one day test here in the summer. There were also some riders who were competing in the FIM CEV here last week, so it's good that we're close to the top pace. I felt comfortable on the bike quickly, on the second or third lap, so I'm pleased about our fast adaptation. Nevertheless, we have to keep improving because the aim for this week is P1; second isn't sufficient at the moment, as it won't get us to where we want to be at this round. We are going to try to work even harder, and the track conditions are going to be a little better tomorrow; there will be more rubber laid down, which will help us."