Bradley Smith relishing working with Cal Crutchlow in 2013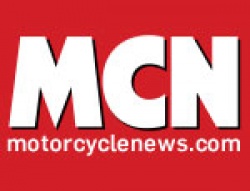 Posted on Sep 11, 2012 by George Penny
Bradley Smith is relishing the prospect of teaming up with fellow British rider Cal Crutchlow in next year's MotoGP world championship.
Smith's two-year deal with the Tech 3 Yamaha squad was confirmed during the recent Brno MotoGP round in the Czech Republic and the 21-year-old will join former World Supersport champion Crutchlow on a factory-backed YZR-M1 machine in 2013.
Crutchlow penned a one-year deal to stay with the French-based Tech 3 Yamaha squad in Brno after lengthy talks broke down with Ducati and the Bologna factory signed Andrea Dovizioso to replace Valentino Rossi.
Crutchlow enjoyed a breakthrough weekend in Brno when he followed up his career best second on the grid with a maiden podium after he took third behind Spanish duo Dani Pedrosa and Jorge Lorenzo.
Smith will make his Tech 3 Yamaha MotoGP debut in the traditional post race test session in Valencia in November and the Oxfordshire rider believes Crutchlow's premier class experience will be a huge boost to help him learn how to master the switch to carbon brakes, Bridgestone tyres and the vast influence of electronic rider aids.
Smith, who currently rides for the Tech 3 Racing Moto2 team, told MCN: "It is great from my point of view to be with Cal because he is going to be in his third year. If Herve (Poncharal) had taken two rookies, which could have been a chance at one point, then that puts a lot of pressure on the riders to get the results.
"So to have somebody there with experience and the results that Cal has had this year takes a bit of pressure off me and I can learn and try and progress."
Crutchlow and Smith have a good relationship off the track and have been winter training partners in California in the past and Smith added: "The nice thing is we are friends and we know each other well. "It will be nice to have a friendly face inside the garage because in MotoGP I am going to be put on the plank and we are going to see whether I can do it or not."