Bradley Smith to replace Khairul Idham Pawi at British Grand Prix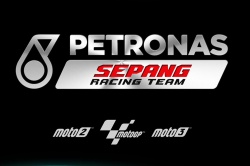 Posted on Aug 14, 2019 by One Energy Racing
British racer Bradley Smith will replace the injured Khairul Idham Pawi at next weekend's British Grand Prix at Silverstone, stepping into the Malaysian rider's shoes at PETRONAS Sprinta Racing. A former podium finisher in the 125, Moto2 and MotoGP class, Smith will make his debut on the Triumph-powered Kalex as KIP continues his recovery from surgery earlier this week.
Hailing from only 30 minutes from the Silverstone circuit, Smith has a strong pedigree at the track, and qualified eighth last year in the MotoGP class before adverse weather saw the event cancelled. Marking his first return to the Moto2 class since 2012, he's fired up for the chance to impress in front of his home fans.
Smith will get the Moto2 action underway on Friday 23rd August with practice starting at 1055 local time (1755 Malaysian time), ahead of Sunday's race at 1430 local time (2130 Malaysian time).
Johan Stigefelt - Team Director:
"For us as a team it's great to have Bradley join us for Silverstone, especially as he's already part of our team in MotoE. We know him really well, we know as a rider he's always dedicated and he always gives 100%, and it's great to give him the opportunity at his home race. Of course it's going to be difficult for him as he hasn't ridden Moto2 in a long time and the bikes are very different now, but we're aware of that and we'll give him the tools he needs to be as fast as possible."

Bradley Smith:
"Honestly, it's going to be quite strange to jump onto a Moto2 bike for the first time since 2012, because the championship has changed quite a lot. I've followed the changes very closely with the new engine and a little more torque and power, but it's still going to be very different for me. I'm excited for the opportunity though! I had a fantastic time last year at the British Grand Prix, qualified really well, and missed out being able to race in front of the fans, so to be able to turn up for my home race again will be amazing. My target for the weekend is to have fun, to do the best I can, and to come away on Sunday with something to be proud of. I've got no idea how it'll work, having to learn a bike, a track and tyres on a normal GP weekend, but it's something I'm very excited for!"