Bradley Smith sets stunning pace to seal first pole of season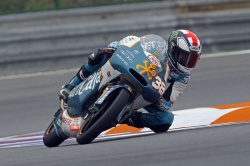 Posted on Aug 15, 2010 by Aspar Press
A foggy morning at Brno saw the opening 125cc free practice delayed by half an hour this morning although the riders were able to take to the track on slick tyres despite the overnight thunderstorms. The sun re-appeared for an afternoon qualifying session that saw Bradley Smith and Nico Terol once again setting the pace, this time with Pol Espargaró for company, and Marc Márquez amongst the frontrunners despite his injured shoulder.

Bancaja Aspar riders Smith and Terol have enjoyed an entertaining head-to-head so far this weekend but it was the Oxfordshire teenager who came out on top, taking over provisional pole position after twelve minutes and gradually increasing his pace. It is the seventh pole position of Bradley's career and his first of the season. Like Smith, Terol set his best time on his fifteenth lap and it was enough for second place on the grid, half a second adrift of his team-mate, with hopes now high of a potential one-two in tomorrow's race.

1st Bradley Smith 2.07.146 (15 laps): "So far this weekend I have improved by 1.8 seconds compared to my pace here last year, which is incredible. I have to credit the team for this because we came to Brno with a very clear plan. We have a good chassis setting that makes the Aprilia stable at every point on the circuit and I can ride it how I want, which is an advantage. I think it's positive for the team that Nico has come back so strong - everything is pointing to us both being on the podium tomorrow and that would be brilliant for the Bancaja Aspar Team. Having said that a lot can happen in nineteen laps so even though we feel ready for it we cannot afford to be overconfident and we must stay focused. I'm pleased with the way the weekend is going and I'm looking forward to tomorrow."