Bradley Smith was unable to mark his final appearance on the Mistral 610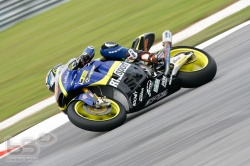 Posted on Nov 12, 2012 by Tech3 Racing
Bradley Smith was unable to mark his final appearance on the Mistral 610 with a top 15 finish after he found it difficult to find a comfortable feeling on the damp surface.
The British rider, who will join the Monster Yamaha Tech 3 MotoGP Team in 2013, showed his battling qualities to remain in the hunt for 11th until the final stages. He eventually crossed the line in 16th position.
Bradley Smith 16th – 109 points:
"Today wasn't the way I wanted to finish my time with the Tech 3 Racing Team in Moto2. It was a difficult race and I didn't have a good feeling throughout. I want to take this opportunity to thank Tech 3 Racing and all my crew for everything they have done for me in the last two years. We have had some great times together and I have definitely learned a lot. I know we have made the Mistral 610 more competitive than it was when I joined in 2011, and it was a shame that we couldn't get the results we'd anticipated this season. I'm now really excited to begin my new adventure with the Monster Yamaha Tech 3 Team in MotoGP. It is going to be a big challenge but one I am up for, and I know with the support of Tech 3 and Yamaha I have a great opportunity. Finally I'd just like to wish Danny and Louis a successful 2013 because they are joining a great Team."
Herve Poncharal - Team Manager:
Bradley never really found a confident feeling with the bike all weekend and that's a pity because we were expecting him to be much more competitive. We can now look forward to 2013.