Brave effort from Smith to seal fifth-row start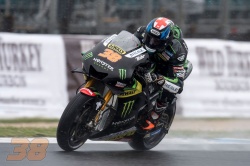 Posted on Oct 22, 2016 by Monster Yamaha Tech 3
Bradley Smith produced a brave effort to seal a fifth-row start for the round 16 fight tomorrow, which will be his 100th Grand Prix with the Tech3 Racing team. The 25-year-old commenced the day by battling against the mixed conditions in FP3, which he completed in 16th as the inconsistent rain continued to fall. Then, after positively building up to qualifying one by finishing FP4 in 9th, he got straight into gear when the 15-minute session got underway. Smith set a rapid time on his third lap whilst riding with wet tyres which left him inside the top two qualifying slots to get into Q2. However, after changing to intermediates, he was pushing to improve his time in the final moments of the session, but he unfortunately fell at turn 8. Luckily, the British star did not damage his already injured knee any further and now he confidently seeks to compete for the best possible result in tomorrow's race.
Bradley Smith: – Position: 14th – Time: 1'41.129 – Laps: 4
"Today was another tricky day with the weather but the team did a great job and I did my best. I had a good feeling in the wet conditions during FP4 and also for the initial part of QP1. I felt comfortable and I decided to gamble as I thought that the intermediate tyres were the right ones to use in the final stages of qualifying one. Yet, unfortunately, because the clock was ticking down and due to the adrenalin also, I pushed a bit too hard on my out lap and crashed at turn 8. Luckily, I am ok, but I am disappointed that I made an error like that. Nevertheless, I am happy that I took the risk with the tyres because I knew there was a good chance that I could get into Q2. On the grid, I will be surrounded by fast riders so of course, they will be moving forward when the race starts and I hope to join them. We will try to make the best setting that we can in the next 24 hours in order to be as ready as possible because this race will be tough due to the lack of dry track time in the practice sessions. However, we will gain some information this afternoon, and I will also have a look at my teammate's data who did a good job to get onto the front row."