Challenging conditions for Smith at Dutch Grand Prix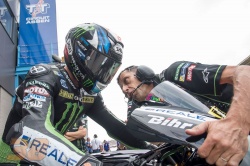 Posted on Jun 26, 2016 by Monster Yamaha Tech 3
Bradley Smith's hopes of a strong result were dashed at the wet Dutch Grand Prix after falling on the 16th lap shortly after the race recommenced. The young Briton began the GP from 13th on the grid and he was shuffled back one position by the close of the first lap. Smith persevered as he launched into his recovery campaign and consistently progressed before clinching 12th when the red flag was shown. Nevertheless, the 25 year old lunged forward at the restart and moved up to 7th, yet his luck ran dry on the following lap as he fell at the 15th corner. He nursed his Yamaha YZR-M1 back to the pits and then bravely re-joined the Grand Prix and sealed 13th.

Bradley Smith: – Position: 13th – Championship: 15 – Points: 32
"It was an eventful day and with the challenging conditions, it was tricky for everyone to not make any mistakes. We started with the harder option rear tyre, which was the first time that we tried it all weekend and it took me a long time to get a general feeling. Yet, I could see Pol just in front of me on the track and I thought that I had made the right decision to go for the full distance, because 26 laps is a long time. Then we had a lot of rain and to be honest, it would have be nice to stop a few laps earlier because it was quite unsafe. It's always difficult for race direction to understand the right moment but this is something we need to talk about in the future at safety commissions. Then, in part two, I felt a lot better because we were able to start with the softer compound of rear tyre, and twelve laps gave us that chance. I immediately made up a lot of positions in the opening lap, and in fact, I would say that it was one of the most competitive laps that I've had this season. Then unfortunately, like many other riders, I fell because I lost the front as it was pushed too much by the extra grip from the rear. Even though it's another disappointing weekend, it was nice to finish and get some points because the team has worked really hard. We will continue to soldier on and do the best that we can. Right now, if we look at the championship we're not where we want to be, but hopefully our fortune will change at some point this season and we'll be back to where we belong."
Hervé Poncharal - Team Manager:
"What a weekend in Assen! We got the typical Dutch weather and it split the event into two incredible races for the fans. Race direction made the right decision to red flag the GP because there was far too much water on the circuit and it was unsafe to ride. Anyway, our two guys remained steady on the track in the first part which I think was the best decision because the asphalt was very slippery. After the restart, we knew there was a good chance of a strong result, and they ended lap one in two solid positions. Unfortunately Bradley, like many other riders crashed but he bravely recovered and managed to finish. I have to say thanks to him for doing his best and always pushing for any points. On the other side, it was a marvellous day for Pol. Last year he struggled a lot with the wet conditions on the MotoGP bike, but this season, he seems to be more comfortable. I think this is because of his efforts and also his adaptation to the Michelin tyres. We believed that a podium could have been possible and Redding stayed behind Pol for quite a while, however when he did overtake, he had a better pace and Pol was clever enough to not do anything too crazy. I want to thank him for being the first Yamaha in the field and hopefully there will be a podium before we end our collaboration with him. Now, Pol will head straight to Japan to test for the Suzuka 8 Hour race which, of course, we wish him luck with. We will be back on track soon and if we can complete the first half of the season one step higher in Germany, it would be the perfect way to head into the summer break."