Challenging qualifying for Tech3 duo in Catalunya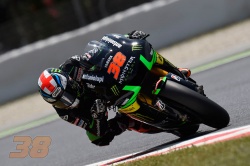 Posted on Jun 14, 2014 by Monster Yamaha Tech 3
Bradley Smith yet again produced a strong-minded display in Q2 which will see him start the 25 lap sprint tomorrow at the Gran Premi Monster Energy de Catalunya Grand Prix in 8th position.
The British star began today by extending his positive run in Montmelo which saw him finish yesterdays FP2 session in 1st and then setting the 3rd quickest time in FP3 this morning.
This left him 4th overall in the combined free practice standings and made him progress straight through to Q2. The 23 year old Britain rode with rapidity from the word go in the 15 minute shoot out session, yet experienced some small balance issues which prevented him slightly. Nevertheless, at the close of the session Smith's best lap of 1.41,491 enabled him to clinch 8th on the grid.
Additionally, his persistent efforts saw the British rider's best lap only half of a second behind the leading bike and tomorrow he will confidently battle for a top 5 position aboard his Yamaha YZR-M1.
Bradley Smith: - Position: 8th - Time:1'41.491 - Lap: 8
"Although I'm not where I want to be and a little frustrated I still feel positive for the race tomorrow. We tried a few different settings on the bike in which some worked better than others and I consistently went faster in every session which of course is a big positive. This was despite the fact that in the end it wasn't quite enough to get to the front. I wasn't too confident with the turning of the bike and it felt like I had my elbows buried in the ground! This is something we will look to work on tomorrow morning during the warm up. In the race I aim to get a good start then push as much as possible especially during the first laps, so that I can try to follow the leading pack for as long as possible."