Cold and wet start to final MotoGP test in Jerez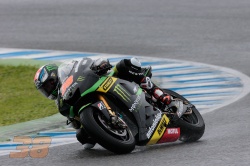 Posted on Mar 23, 2013 by Monster Yamaha Tech 3
Wet, windy and cold weather dominated the opening day of the final MotoGP pre-season test session at the Circuito de Jerez in Spain today, the adverse conditions resulting in Monster Yamaha Tech 3 Team riders Cal Crutchlow and Bradley Smith completing less than 35 laps between them.
The forecast heavy rain started to fall shortly after the pit lane opened at 10am and it wasn't until more than five hours later when the worst of the rain had stopped that Crutchlow decided to venture out on his YZR-M1 machine.
Eager to get in more vital dry track time ahead of his MotoGP debut in Qatar next month, the treacherous conditions were the worst imaginable for rookie Smith.
Smith did complete 14 laps in the wet today to gain some knowledge of the grip offered by Bridgestone's hard compound rear tyre, but like Crutchlow his strategy was to use only one set today, keeping a further three in anticipation of further wet weather tomorrow. Smith ended today with a best lap of 1.52.047 to finish 16th on the timesheets.
Bradley Smith 16th 1.52.047 – 14 laps:
"When you need as much dry track time as possible to build up experience, the last thing I wanted to see was conditions like today. Of course it is still good to get some time in the rain because that is also good experience for me but I only did two runs this afternoon. I was able to understand the bike quite quickly but the plan was always to use just one set of tyres today and keep the rest for tomorrow. With the tyres we have kept back for tomorrow it will mean I can have a lot of time on track to understand more about riding in the wet. I didn't try and push too hard and I was quite cautious because the last thing I want to be doing is crashing. But I could understand the maximum lean grip, even with so much horsepower, was incredible. Tomorrow we will wait and see what happens with the weather but rain or sh ine I'll be out on track trying to learn as much as possible because it is the experience on the bike that I am lacking."