Confident Smith clinches top satellite position in Mugello qualifying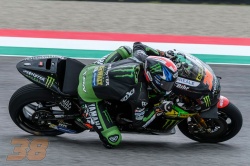 Posted on May 21, 2016 by Monster Yamaha Tech 3
Monster Yamaha Tech3 team rider Bradley Smith will begin his challenge to score a strong result in Italy from the middle of the third row of the grid after a thorough effort in the highly competitive qualifying session today. The 25-year-old delivered a strong performance in the morning and posted a lap time that was almost 1.7 seconds quicker than his best from yesterday, which saw him seal 7th in FP3. This allowed him to instantly progress through to QP2 and here, he immediately launched into gear. The young Briton eventually posted a personal best on his last lap, which saw him claim the top satellite position and his time was just half a second from the head of the second row. Tomorrow he will aim to repeat his performance of 5th from last year and finish as close as possible to the factory MotoGP riders.
Bradley Smith: – Position: 8th: – Time: 1'47.247 – Laps: 9
"I am really pleased to clinch the top independent position today and we're on for a good race tomorrow if we keep our heads down. We certainly took advantage of the situation even though it was very competitive because some of the top riders ended up in QP1 and didn't get out of it. Therefore, I'm happy that we got through to qualifying two via a good performance in FP3. I have to be satisfied with the end result because so far in 2016, it's been challenging in both the qualifying and in the race. Yet, in Le Mans I feel that the team and I improved quite a lot but unfortunately I made a mistake in the race there. However, we've learnt from our mistakes and it worked here. We played around with tyres a bit too much in FP4 so initially in QP2 I wasn't as quick as I should have been, but we made the right choice for the final run. There are plenty of positives but I want to be in the top independent position in 24 hours time. We know that tomorrow will be hot and as I was able to test all of the tyres today, I have quite a clear plan about which compound to use. There are still a few small refinements to make, but the plan for the race is to get a good start and then try to remain with the factory guys for as long as possible, and then we will see what happens at the end of the GP."