Consistent Smith completes Czech Grand Prix as top satellite rider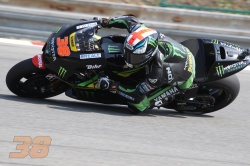 Posted on Aug 16, 2015 by Monster Yamaha Tech 3
Monster Yamaha Tech3 Team rider Bradley Smith determinedly battled his way to 7th position at the bwin Grand Prix Ceske Republiky as he finished once again as the leading satellite rider aboard his Yamaha YZR-M1. The young Briton began the day strongly by completing the warm up in 5th place which left him fully confident for the race today.
When the 22 lap sprint commenced, the 24 year old undertook an impressive start to climb into 3rd position at the first corner as he rode right in the mix with the factory MotoGP bikes. Ultimately, he crossed the line in 6th position after the first lap whilst exchanging some aggressive passes with Andrea Dovizioso. Smith then stuck into his strong race pace in order to remain with the group, yet was overtaken by Dani Pedrosa on lap seven. However, at the halfway point, the English star remained in 7th whilst setting a series of consistent lap times as he aimed to open a gap to his chasing teammate and due to his impeccable riding, he completed the race in this position.
His result in the Czech Republic saw him pocket another batch of points to add to his tally in the world championship as he continues to reside in 5th, ahead of the Factory Ducati rider Andrea Dovizioso.

Bradley Smith: – Position: 7th– Championship: 5th– Points: 106
"It's a good achievement to finish as the top satellite bike again and the result concludes a positive weekend for us in the Czech Republic. Having said that, it is quite frustrating to finish 21 seconds behind the leader but this seems to be our level at the moment. All weekend the team has done a fantastic job and I really enjoyed fighting for the front row in qualifying yesterday. In the race today we took a bit of a gamble due to the hot weather conditions and I rode the medium front tyre and when I was following the Ducati riders at the beginning, I overheated it slightly, which caused me to drop back a bit. However, from the halfway point onwards, I felt more comfortable. It seems that we lose too much time at the start and so this is the weakest point. It is limiting us a little but despite that, I know that the guys are working really hard to find any kind of solution. Another positive is that I extended my lead over Pol in the championship standings, plus I didn't lose too many points to Dovizioso. We're fifth and we will continue to fight as hard as possible to remain in that position so I am super excited about continuing this run at my home GP"
Hervé Poncharal - Team Manager:
"To be completely honest, it was another tough day for my heart! I have to talk to Bradley and Pol because I am getting old and what they are doing on track is threatening my health! It was a long and intense race but I think we achieved the best that we could have hoped for by finishing in 7th and 8th. Six full factory bikes were the only ones in front of the Monster Yamaha Tech3 guys and none of them made any mistakes what shows how competitive our whole team is. The two riders have quite clearly shown that once again they are the best satellite riders so I am really proud of them. Coming back to my heart, when I saw them so close on the track, I knew how much they wanted to beat each other and it was a bit worrying to watch. That was almost the case from the very beginning of the race but I have to thank both for being clever, fast, cautious and for not taking too many risks as we took some strong and important points. Bradley still sits in fifth in the standings which is very impressive and it's great for him to arrive at his home Grand Prix holding this place. On the other hand Pol made a lot of ground on some of his strong opponents and the pace of the two guys was very close so I think it was a positive weekend altogether. Hopefully they can have a few days off before they get back on track at the British Grand Prix"