Continued progress for Tech3's Smith at Sepang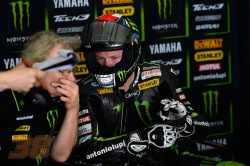 Posted on Feb 27, 2014 by Monster Yamaha Tech 3
Monster Yamaha Tech3's Bradley Smith carried on with his testing programme in a positive fashion at the Sepang International Circuit. Smith lapped confidently with his Yamaha YZR-M1, as preparations for the MotoGP World Championship season opening race at the Losail Circuit proceeded.
With traction improving and the dirt gradually clearing from the track, the Monster Yamaha Tech3 rider sought comfort and confidence in the set up of his Yamaha YZR- M1 MotoGP bike, opposed to posting quick lap times today.
The weather was once again very humid and hot at the iconic Malaysian circuit, which is located nearly 50 kilometres south of Kuala Lumpur.
Bradley completed another solid day today undertaking an abundance of laps and continuing with his testing programme. Having spent the preceding test day accustoming himself with the newly acquired seamless shift gearbox, today he continued to refine set up options on the Yamaha YZR-M1. Smith worked on the feeling of the bike with a full fuel load, and some front end and rear end settings. Once satisfied with the progress, the British rider expertly completed 60 laps in today's session alone and finished the session in 10th place with a best time of 2:01.098.
The final day of testing commences tomorrow between 10am and 6pm (local time – GMT +8) at the Sepang International Circuit, Malaysia.
Bradley Smith - 10th - 2:01.098:
"It was another positive day, we tested many things and tried to learn as much as possible. We worked on the front end and found a few small details, before moving to the back of the bike. Unfortunately we couldn't find a rear setting which worked without affecting something else, but it's about trying to find the right compromise. I am really pleased that I did many 2.01 lap times. I felt confident and the bike is feeling good on the full fuel load, which is what we always targeted on improving. Track conditions today weren't too bad, I know there is more potential but unless I make it happen, it won't make any difference to the lap times. I'm still a bit off from where I would like to be. Looking at the factory riders, I would like to reduce the gap to them and become more consistent. I am really pleased with the work we have been doing. The team have worked extremely hard, so I want to say a big thanks to them. Hopefully, we can do a race simulation tomorrow and see how much we have improved since the first test."