Crash compromises qualifiers for Bradley in Barcelona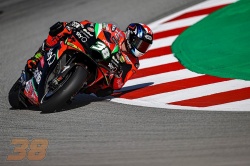 Posted on Sep 26, 2020 by Aprilia Racing Team Gresini
As was expected, the two free practice sessions held today in Barcelona were also used by the riders to work on tyre wear, looking for the best setup on a rather demanding track from this point of view.
In the Aprilia camp, performance was undoubtedly compromised for Bradley after a crash on the final turn during FP4 which forced Smith to use his second bike in qualifying. The final result placed Bradley on the seventh row off the grid for the race tomorrow.

Bradley Smith:
"This morning, things started on the right foot. I had a good feeling and a promising pace. We changed the settings for FP4 but it didn't work. I crashed with the first bike, so I had to use the version with different engine specs in qualifying. We'll try to get this morning's sensations back in warmup. In the race, tyre wear will be a determining factor. As for us, our only choice is to push hard straight away and then we'll just have to deal with the lack of grip."