Crucial three days for Bradley before Qatar debut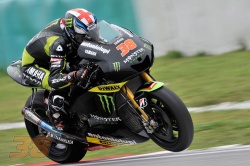 Posted on Mar 22, 2013 by Nick Harris
With his long awaited MotoGP™ debut just over two weeks away Bradley Smith faces a vital three day final test at Jerez in Spain starting on Saturday.
The 22 year old will be praying for three days of dry weather round the 2.748 miles Jerez circuit in southern Spain before making his MotoGP debut under the Qatar floodlights on April 7.
After two tests on the Monster Tech 3 Yamaha in mixed conditions at Sepang in Malaysia the Oxfordshire rider returns to Europe for three crucial days as he learns more about competing at the very pinnacle of grand prix racing.
"This will be a big three days for me and the team," explained Bradley, who won the 2009 125cc Spanish Grand Prix in Jerez." It will be great to ride the M1 MotoGP Yamaha at a different circuit and I need to get in as many laps as I can because the next time I ride the bike it will be practice for my first grand prix. I learnt so much in Sepang and especially at the second test but there is still so much for me to understand about riding a MotoGP machine."
He continued, "It's crucial when we arrive at Qatar we know which direction to go in with the set up. I'm positive after the second Sepang test although I did not improve my lap times and I have a better bigger picture on riding the bike but there is still so much to learn. Braking and tyres are two key areas I will be working on and I'm sure the team, with Qatar approaching, will be pushing me hard. It will be very interesting tackling Jerez on a MotoGP bike and we need three dry days and loads of laps to be prepared for Qatar."
Not only is this a crucial three days for Bradley and the Monster Tech 3 Yamaha team but all 24 MotoGP riders before the start of the 18 round championship which starts in Qatar on April 7 and finishes in Valencia Spain on November 10.