Determined ride by Smith in Jerez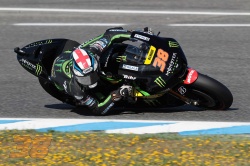 Posted on May 03, 2015 by Monster Yamaha Tech 3
Bradley Smith produced a determined ride to finish in 8th position at the Gran Premio bwin de Espana which extends his positive run so far in the 2015 season. The young British rider leapt off the line from 10th on the grid as the lights went out and finished the first lap two places higher. Smith then intended to move further up the field and he reached 7th on the second lap as he set into his race rhythm.
With 10 laps remaining, Smith continued to push from 8th position which gave his chasing rivals no chance of catching him as he then attempted to hunt down Aleix Espargaro in front. The British star met the finish flag in 8th and his result sees him remain in 7th in the championship after another positive display. Now Smith looks forward to the upcoming test day tomorrow before heading to the Monster Yamaha Tech3 team's home race in a fortnight's time in Le Mans.

Bradley Smith: – Position: 8th – Championship: 7th – Points: 36
"I am happy to go back home with another top eight finish and some valuable championship points in my pocket after the tricky weekend we have had. My plan was to get into a consistent race pace and then stay in it. The start was great and I tried to stay as close as possible to Aleix as I knew he was using the softer option of tyre so there was a chance that I could overtake him at the end of the race. Eventually, I managed to close him down a bit but unfortunately not enough to pass him before the finish flag fell. I have had three crashes this weekend so it was important to get a result today even though it was damage limitation. Tomorrow in the test I hope we can spend some time working on solutions for tracks like Jerez, whether that means focusing on my riding style or on different bike settings. It's certainly not fun having challenging weekends like this one where every time you push, you risk falling. We can't have weak races this year and lose points in the championship to the other satellite bikes, so it's back to work tomorrow to find some answers in order to be back fighting again for the leading satellite position at the Tech3 team's home Grand Prix in Le Mans."
Hervé Poncharal - Team Manager:
"Our two riders did a very good job and to have both guys finish in the top eight is a great way to close the weekend. We knew it would be a tough race at this track due to the grip level especially during the second half of the race. I'm sure all of the riders were concerned about the tyres lasting and we weren't an exception. Yesterday we were struggling in the second part of the race distance when we ran a simulation in practice but fortunately the track temperature dropped slightly which helped us a bit. However, both riders had good starts and overall we have to be pleased with what we achieved here. In all honesty, the battle at the front was not as intense as the first three races, but the most important thing for us is that we are consistently scoring points. Bradley had a great recovery from what was a tricky weekend and rode bravely. Perhaps he could have caught Aleix if there was another lap or two, however we are pleased with his work today. It's very positive to be scoring some great results and collecting points for the team championship. Now we head to France confident plus ready for the action and we are hoping for sunshine at the beautiful Le Mans circuit."