Difficult race to 5th for Bradley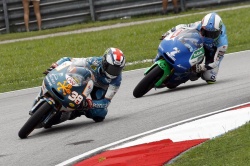 Posted on Oct 10, 2010 by Aspar Press
Two hours later than the customary start time, the 125cc Malaysian Grand Prix kicked off proceedings in Sepang at 1pm. The cream of the field rapidly rose to the top, as the World Championship's top three took to the front and commanded the race. However, nine laps in the chasing group started to catch up with the title challengers, forming the biggest leading pack since the season opener in Qatar. With six laps to go, Marc Márquez put on a final burst of speed to leave Pol Espargaró and Nico Terol behind, just ahead of the fourth place battle between Bradley Smith, Efren Vázquez and Sandro Cortese.

Bancaja Aspar's Nico Terol hadn't placed higher than fifth in his previous visits to Sepang, but got off to a great start in the 2010 race. He took the holeshot and tried to weather the escape attempts of his rivals, with the result being that it was he who established a gap. Five laps on and Márquez and Espargaró had caught up, but Terol did a great job of holding onto third place and taking his sixth consecutive podium. His title chances remain viable.

Teammate Bradley Smith had a different race to what he had been expecting, experiencing different sensations onboard his Aprilia. Nonetheless, the Briton led the chasing pack for most of the race, finally relegated to fifth by a late Vázquez overtake.

5th Bradley Smith: "Today was a hard race for me, because I didn't have any feel for the front suspension. The bike was locking and I had a lot of chattering to deal with, which is strange because the bike was behaving a lot differently to how it had during the rest of the weekend. We used the exact same setting as yesterday this morning and maybe the change came from the temperature. I don't know. Keeping a consistent pace was difficult, but I gave my all in order to try and bypass the problems. Now we will sit down and analyse what happened and how we can find a solution for Australia."