Difficult start for Tech3 in Qatar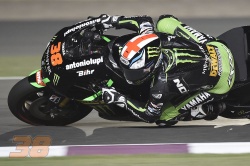 Posted on Mar 23, 2014 by Monster Yamaha Tech 3
Monster Yamaha Tech3's Bradley Smith and Pol Espargaro suffered ill luck during an eventful opening race of the 2014 MotoGP World Championship at the Commercial Bank of Qatar Grand Prix. Both Tech3 riders did not finish the race with Britain's Bradley Smith falling whilst challenging for a podium position on lap 19.
The opening race began in emphatic fashion for Bradley Smith, who qualified in a personal best ever position of 3rd on the front row of the MotoGP grid. The young English rider was in 2nd place during the opening laps and was in contention of leading the Grand Prix, before settling into a steady rhythm. The Monster Yamaha Tech3 rider remained close to the front for the duration of the race, and as he was preparing his attack on the leading four on lap 19, Smith lucklessly lost the front of his Yamaha YZR-M1 at turn 6.
Bradley Smith - DNF:
"It's plain to see that this wasn't the ideal way to finish the opening race of the season as I gave everything that I possibly could have during the race. I was feeling good on the bike, however it was difficult to close the final second to the front runners but with five or six laps to go I was determined to try and catch them. Unfortunately, I then fell. I want to thank my team, especially after the big crash and the repairs that they had to do on Friday. Now I need to refocus a little bit, taking all the positives out of this weekend and then go to Austin with this new found confidence and be as competitive there".

Herve Poncharal – Team Manager:
"This weekend wasn't great for us. Bradley qualified well, started positively and was running a good pace near the front, continuing the excellent job that he had been doing all weekend. For sure, the crash is a disappointment but there are still many positives to consider such as, qualifying in front row and running comfortably in the top 5. We have been strong all weekend and it's a shame to come out with no points after all the effort we put in. We will now focus on the upcoming race in Austin".