Dutch delight for Smith at Assen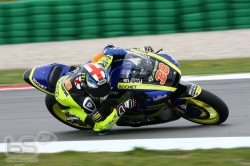 Posted on Jul 01, 2012 by Tech3 Racing
Tech 3 Racing Team rider Bradley Smith stormed to his best result of the 2012 Moto2 World Championship in today's historic Dutch TT at Assen.
The British rider took full advantage of a third row grid position to make a typically aggressive start that immediately put him in contention for a podium in a frenetic opening few laps.
Smith's overtaking skills immediately came to the fore on the legendary Assen track and after three laps he had broken into the top five and was right behind eventua l race winner Marc Marquez.
As the frantic action unfolded in front of a crowd of just over 90,000 fans, Smith dropped back to ninth at the halfway stage but then showed why he is one of the strongest in the Moto2 field on worn tyres.
The 21-year-old launched a brilliant attack in the second half of the race and by lap 16 he moved back into the top six and then superbly fought his way back into podium contention behind Alex de Angelis, Esteve Rabat and Scott Redding.
Smith never gave up and pushing his Mistral 610 machine to the limit he finished just 1.5s behind Redding in third position at the end of a pulsating 24-lap encounter.
Bradley Smith 6th – 47 points
"That was a fantastic race and I feel really happy with the job all of us at Tech 3 Racing have done because it was easily the best race of the season. It is brilliant to be back in the top six because this is where we should be consistently. We have not stopped working to improve the Mistral 610 machine and to finish so close to the podium is a great confidence boost. I was worried the good result in Silverstone might have been down to a bit of home race factor, but we have been even stronger and more competitive here in Assen. It was a really hard race and I never gave up because I could see Scott in third and just kept trying to put pressure on Alex and Esteve. I was back to being one of the fastest on track today and I was very fast in the second half of the race on worn tyres. That was a key strength of mine last season and I could show it again today. Now we go to the Sachsenring next weekend with a lot of confidence."
Herve Poncharal – Team Manager
"We have a lot of smiling faces in the Tech 3 Racing garage this afternoon because it is great to see Bradley and Xavier both in the top 15 with incredibly strong performances. We have not had an easy start to the season but today's result shows how competitive the Mistral 610 package is and this is a good reward for all the work Bradley and the Tech 3 Racing Team has put in to improve. Bradley has been fast all weekend and he got one of his trademark fast and aggressive starts and he was able to stay with the leading group for a long time before he dropped back a little bit. But in the last laps he again showed he is really strong on worn tyres and he gave himself a great chance to be in the top four. But to finish sixth and get his best result of the season gives the Tech 3 Racing Team a lot of confidence for the next races where Bradley is very strong."