Expectations met at Sepang 2 for Tech3's Smith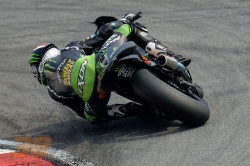 Posted on Feb 28, 2014 by Monster Yamaha Tech 3
Monster Yamaha Tech3's Bradley Smith completed the final day of testing at the Sepang International Circuit today, with many positives to conclude, for the beginning of the MotoGP season at the end of March.
British rider Bradley Smith ended the test with an overall feeling of satisfaction regarding his performances over the past three days, as he prepares for his second season in MotoGP.
Having undertaken relentless testing programmes for the previous two days, today saw the second Sepang MotoGP test draw to a close. The Monster Yamaha Tech3 rider experimented with various aspects of his Yamaha YZR-M1 MotoGP bike in order to find the most suitable set ups which would suit his riding style.
Having spent a large quantity of time on refining the front and rear sections of the Yamaha YZR-M1, as well as accustoming himself to the seamless shift gearbox and the new Bridgestone tyres, Smith was content with the developments made. He completed a full race simulation today, which was successfully undertaken and confirmed that all of the changes made during this test were in the right direction. Undertaking a colossal 185 laps over all three days, the young British rider finished the second Sepang test with a best time of 2:00.804 in 9th place.
The next testing session will commence at the Losail Circuit, Qatar on the 7th of March for Satellite MotoGP riders, and Open Class MotoGP riders only.
Bradley Smith - 9th - 2:00.804
"We tried a lot of different solutions today, especially with the rear of the bike and tried to work the new Bridgestone tyres as much as possible. I found a setting that I was much happier with, which made the bike smoother, and let me ride the Yamaha how it should be. We definitely made the step with rear tyre performance, which allowed me to be much more consistent, compared to the last Sepang test and last year's race. I did a race simulation, and am pleased as it was during a really hot part of the day, so not perfect in terms of track conditions. At the end of the day, after 70 laps I also did my best time. There are many positives, and I come away from here quite happy. It appears as though the track was slower this time than the previous test, but we are close to my lap time from then. All in all, it has been a somewhat difficult three days, but I am really pleased with the final result."
Herve Poncharal - Team Manager:
"It has been a very positive test for us even though we are not on top of the timesheets. We chose to work relentlessly on our race performance. We were also able to evaluate the new seamless gearbox we got from Yamaha for this test, which we are very thankful for. Comparing the race simulations from the first test here at the beginning of the month, and to today, we clearly saw that the gearbox has been a big improvement as well as the new Bridgestone tyre. Of course there are still things to adjust, especially on Pol's side but altogether we are satisfied with the progress we have achieved during the last three days. Unfortunately this positive MotoGP test is shadowed by the very sad news of an incident with our Moto2 rider, Alex Mariñelarena, who is in hospital in Toulon. The thoughts of the whole Tech3 Racing Team are with him and his family. We truly hope he recovers quickly to join us for the upcoming challenges."