Fifth and Sixth row for Aprilia in Jerez qualifiers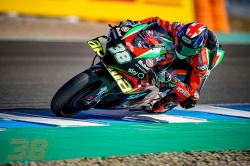 Posted on Jul 18, 2020 by Aprilia Racing Team Gresini
Intense work continues in the garage for Aprilia, busy with a new bike that demonstrates extremely positive characteristics but requires some fine tuning, especially when it comes to adapting to the various conditions. For example, although performance on used tyres satisfies both Aleix and Bradley, exploiting the bike's raw power for time attacks is proving to be a bit more complicated.
This is a characteristic that came out once again in today's qualifiers, with both riders competing in Q1 with similar performance. Aleix stopped the clock at 1'37.940 and Bradley finished 26 thousandths behind him, also the victim of a harmless, yet spectacular crash on turn 2 toward the end of the session. Because of Rins' injury which will cause him to miss the GP, Espargaró will start on the fifth row in a race that promises to be extremely heated, and not only because of the asphalt temperature. Sixth row for Smith.

Bradley Smith:
"I'm rather pleased with the improvements today, despite the crash on turn 2 during qualifying. We have some work to do. The gap behind Q2 is still too wide. As I said yesterday, our pace is better than our position on the grid reflects, although tomorrow the conditions will be different. It seems like our tyre wear is a bit lower than average, so we will probably be able to maintain higher speeds in the second half of the race. In any case, it won't be a simple Sunday."