Final 3 days in Jerez conclude winter testing for WithU GRT RNF MotoE Team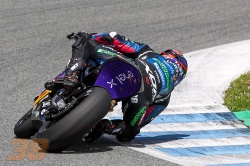 Posted on Apr 15, 2022 by WithU GRT RNF MotoE
Bradley Smith has been working on his feeling during the ultimate season preparations in the South of Spain.
This week marked the final three days of winter testing at the Circuito de Jerez-Ángel Nieto for the FIM Enel MotoE World Cup ahead of the 2022 season, that officially kicks off in two and a half weeks during the Spanish Grand Prix at the same venue.
Thereby, the WithU GRT RNF MotoE concluded their preseason preparations, although they have been lacking some dry time with sole rider Bradley Smith, as Niccolo Canepa was not in Jerez at all. The Italian had to fulfill other riding obligations. Yet, he already had a decent feeling during the first test.
Following a sunny day one, where Bradley Smith clocked a personal best of 1:49.447 in session two, he dominated Tuesday in wet conditions. The British rider, who returns to MotoE this season after two years of absence, was fastest in each of the three sessions of the day and at the same time, the most diligent rider, being brave to go out in each session and doing a total of 17 laps.
Wednesday's first session took place still on a partly wet track, therefore it dried around midday, which saw times at the top tumbling, while Smith was still working on finding solutions aboard his Energica Ego Corsa. Session three of the final day has been used as a race simulation, which the WithU GRT RNF MotoE Team rider concluded inside the top 10.
Ahead of the first race of the season, Smith still sees room for improvements, but is eager to close the gap to the front further with the first practices from Friday, 29th April.

Bradley Smith:
"It was a pretty difficult test due to the conditions. The rain created quite an issue for all of us, as we didn't have enough dry track time as we would like. We improved the bike a little bit from the first test, but clearly, we are still lacking the performance of the top guys. We tried again a lot of solutions, but unfortunately, like during the first test, we can't really put the finger on the issues, we are having and this is stopping us from being able to go that extra step faster as the other guys. Anyway, I'm happy with the small progression we've made. I'm starting to feel more and more comfortable on the bike, but if we want to really compete at the first round, there's still a lot of work to do."

Razlan Razali, Founder and Team Principal WithU GRT RNF MotoE Team
"We had a second test with our WithU GRT RNF MotoE Team at the Jerez Circuit, although it's a pity that Niccolo couldn't be there. But he was already fast during the first test, so I'm convinced he will be ready and having a strong pace from the start of the MotoE season. In spite of the fact that the weather has played a major role, Bradley did many laps and did a solid job. He topped the second day in the wet, which was fantastic, but obviously, we know there is still a lot to do in order to be able to battle at the front. Anyway, can't wait to see the electric bikes on track for the first race weekend in a bit more than two weeks' time and to bring the entire RNF Team together for the Spanish GP."

Filippo Conti, Team Manager WithU GRT RNF MotoE Team
"Unfortunately, the weather was not the best and we couldn't totally benefit of the three days of test. Anyway, we still did some laps which was good to get more data before the beginning of the FIM Enel MotoE World Cup. Therefore, we made a race simulation and we tested the new qualifying system and now we have a clearer scenario on how we should work on that. Now it's time check what we did and prepare ourselves as best as possible for the first race of the year. We're ready and eager to be on the top."