Flying start for new BS38 merchandise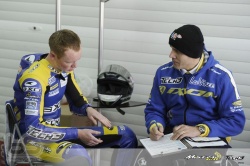 Posted on Feb 24, 2011 by George Penny
A new collection of Bradley Smith (BS38) clothing has been launched recently and as we all prepare for the new season, feedback from fans is all good.
Available for sale through this website, the new collection includes polo shirts, T-shirts and beanie hats, ranging from £10 to £30.
Prior to starting preparation for the recent tests, Bradley took time out to model the merchandise which can be viewed here.
Bradley's new brand features on some of the range. Additions to the collection will be added during the season.
So what are you waiting for? Click the link here, have a look around, and show your support for Brad!