Good progress in hot qualifing for Red Bull KTM Factory Racing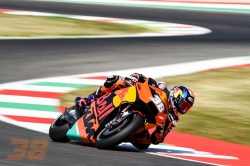 Posted on Jun 03, 2017 by Red Bull KTM Factory Racing
Scorching sunshine meant a red hot pace at the Mugello circuit for the qualifying sessions for the Italian MotoGP today with KTM fighting in all three classes. In the premier MotoGP class, improvements to the KTM RC16 have worked well for Pol Espargaro to ultimately qualify just 1.1 seconds off the front row in 18th. Red Bull KTM Factory Racing team mate Bradley Smith was just over half a second back in 23rd for what will be a very hot race tomorrow.
With a new chassis freshly delivered to both riders from Austria for this weekend, the Red Bull KTM Factory Racing riders worked hard to further improve the working window for the KTM RC16. It was a hot day in the Tuscan countryside with the track temperature hitting 54 degrees celcius – as warm as it is in Malaysia – meaning lap times were actually a little slower than last year for the pole position battlers. However, with KTM progress was found technically with the bike that is racing at its sixth GP tomorrow. Indeed, the MotoGP class has produced some exceptionally close times this weekend with the top twelve on the grid split by just 0.9 seconds over a 106 second lap proving this is the very pinnacle of prototype motorcycle racing.

Bradley Smith (Factory Rider MotoGP):
"Today we made another good step in the right direction by improving 1.1 seconds so I'm happy. We had a problem in qualifying with the soft tyre so I had to go with the medium which is never the ideal one to qualify on, but nevertheless in these tricky conditions and in this heat we found some problems with rear grip. Tomorrow is going to be a long one – 23 laps – in these conditions with these tyres and not making any mistakes. I was pleased with my FP4 where we did a full run on race tyres to see where we're at: I still feel quite comfortable in that area so all in all I feel prepared for tomorrow after we try some small changes in the warm up just to find a few more tenths and something in the pocket for the race. Overall a good day."
Sebastian Risse (Technical Director MotoGP):
"In general I am quite relieved with the results we are having. Looking at the position for sure it doesn't sound so sweet but the way we went forward and looking at the lap times, another step is over the race distance. Comparing to when we tested here we have made big steps during this weekend and they are positive, but we now have to put them together for the race, understand tyres for the race and some settings to see how we can make it physically easier for the rider over the race distance. I am more happy than the results show."

Races: June 4, 2017 – Moto3 11:00 | Moto2 12:20 | MotoGP 14:00 CET