Heroic Smith seizes points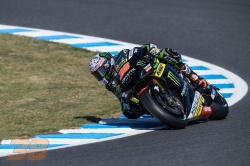 Posted on Oct 16, 2016 by Monster Yamaha Tech 3
Bradley Smith bravely rode to 13th at the Japanese Grand Prix, despite not having full race fitness due to his injured right knee. The young Briton, who was making his first MotoGP appearance since damaging his knee in August, began the 24 lap contest from the fifth row of the grid. When the lights went out, he lunged forward but was shuffled back to 18th by the close of the opening lap. However, Smith focused and quickly set into a consistent rhythm, which saw him move back into the points with a third of the total distance having been completed. He dug deep and at the half way point, he was running in 14th as he continued to lap at a notable pace. Eventually, the 25-year-old crossed the finish line in 13th, which marks an impressive result when considering his condition, at Yamaha's Home Grand Prix. Now, Smith confidently eyes up the Australian Grand Prix, which will take place in a week's time.
Bradley Smith: – Position: 13th – Championship: 17th – Points: 45
"No doubt, today has been a very hard day for me but it is definitely nice to get some points as a reward for the effort. In the last seven weeks I've had to watch the rest of the MotoGP world go racing, whilst I've been at home, so it is a good feeling to be back on the grid and getting myself involved, therefore I can't be disappointed about a 13th place finish as I didn't even know if I was going to be able to complete the GP a few days ago. To be honest, I forgot how long the races are in terms of distance, but riding out there for 24 laps at the absolute maximum was really demanding today and doing it without making any mistakes is probably the hardest challenge for me at the moment. I want to say a big thank you to the whole team because they have done a fantastic job over the weekend in preparing a great bike, as well as taking a lot of care, even if I wasn't able to work as closely as usual with them, because the physiotherapy took a lot of time away. Moreover, I also want to thank Yamaha for all their assistance during my stay in Japan. Being away from home meant that I truly needed a helping hand and they have been very supportive so I'm really grateful for that."

Hervé Poncharal - Team Manager:
"It was another great race today and who could have imagined that the two factory Yamaha MotoGP riders would not see the finish flag and Marc would win the championship. With regards to the Tech3 guys, firstly, I want to congratulate Pol because he did the best that he could all weekend long. On the other side of the garage, I have to say that Bradley did a superb job today and I want to give him very special congratulations because when he arrived here on Thursday, we weren't sure if he could even do one lap. Not only did he complete all of the practices, but he also qualified in 15th which is quite incredible. However, we didn't think that he could complete the entire distance. It's amazing that he did and he scored a good result ahead of some of the regular riders who are fully fit. So I want to give him massive thanks and hopefully, his knee should be a bit better in Australia. Thanks to the whole team for their hard work and let's see what happens down under next week."