Home Hero Bradley Smith suffered incredible bad luck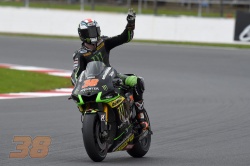 Posted on Aug 31, 2014 by Monster Yamaha Tech 3
Bradley Smith suffered incredible bad luck at his home circuit after undertaking a bright start but then entering the pits on lap 12 due to a cracked rear wheel. Smith started the 20 lap race from 7th on the grid and as the lights went out, the 23 year old leapt forward and locked into his strong race pace whilst biting at the heels of the factory MotoGP bikes.
He undertook an expert overtake to seize 6th on the fourth lap and became involved in a fierce battle with Andrea Iannone, exchanging some memorable moves. However, the Monster Yamaha Tech3 team rider entered the pits at the mid point of the race due to an unusual feeling in the rear section of his bike, which transpired to be a broken rim. Yet the British star persevered to the delight of his fans and headed back out on track to once again set competitive times before finishing in 22nd position due to the unscheduled pit stop.
Bradley Smith: Race: 22nd: – Championship: 10th – Points: 65
"Obviously I didn't end up in the position that I had hoped for this weekend. Unfortunately, we had a cracked wheel in the race but we don't know exactly when or why it happened. I tried to stay out and fight through it but it just got too dangerous to ride. When we changed it, I proved that I have the pace for 6th. It was a good weekend up until the race and the team did a great job, but these things happen sometimes. It's really disappointing for all of the fans who came to support me, who were fantastic and went crazy when I was on my cooling down lap. So I won't be defeated just yet and have to learn from every experience. I will again try to give it my all in Misano in two weeks time and give the British fans something to cheer about."
Hervé Poncharal - Team Manager:
"I can't say anything different other than I feel truly sorry for Bradley as he had a great weekend so far. He pushed hard without doing any mistakes, had a good qualifying and made a great start. He was battling with Vale for the opening laps, until suddenly his pace dropped dramatically and we suspected it might be due to a technical problem. Brad entered the pits and it turned out to be a cracked rear rim. The issue itself happens once in a lifetime, but to happen during the race and in front of his home crowd is more than unlucky. However he got back out on track and again rode some really competitive lap times, but it won't remove the bitter taste in our mouths. We know he should have gotten 6th, as this was his pace but unfortunately this will not be written in the storybooks or championship standings. Now we will head to Misano where we hope both riders can see the chequered flag and finish in a strong position."