Incredible drama and tension from start to finish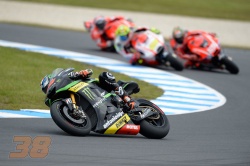 Posted on Oct 20, 2013 by Monster Yamaha Tech 3
The Monster Yamaha Tech 3 Team celebrated a fantastic double top six finish for Cal Crutchlow and Bradley Smith in an action-packed and unique flag-to-flag MotoGP race at Phillip Island this afternoon.
Concerns about excessive tyre wear on a new track surface meant the race was reduced to 19-laps on safety grounds, which included a mandatory pit stop for fresh Bridgestone rubber at the end of lap nine or 10.
Smith stormed back into the top six for the first time since the German round after he made a sensational start to round 16. The 22-year-old got a stunning launch off the line and on the first lap he'd surged into fourth and was right on the back of leading Spanish trio Jorge Lorenzo, Marc Marquez and Dani Pedrosa.
Smith gained precious experience after dicing it out with Rossi, Crutchlow and Bautista in the early stages and he employed a different strategy by opting to enter the pit lane at the end of lap nine.
He was able to comfortably clinch a richly deserved top six finish and today's performance gave a significant boost to his hopes of securing a top 10 World Championship finish, with his lead over Aleix Espargaro now 11-points with two races remaining.
Crutchlow and Smith's excellent display also moved the Monster Yamaha Tech 3 Team a step closer to clinching third in the Team World Championship standings.

Bradley Smith 6th – 99 points:
"Sixth position is a very good result and I got another really fast start. It was great to be right up there on the first lap and I could learn a lot in the early stages from the guys with much more experience. The setting we ran wasn't ready to fight for the top six but I gave it my best shot. We damaged the rear tyre in the first run, so I tried to take it a bit steady in the second one. It has not been an easy weekend with a lot of drama and confusion surrounding the tyres, but my Monster Yamaha Tech 3 crew remained calm and concentrated throughout and it was good to pay them back with my first top six for a while."
Herve Poncharal – Team Manager:
"I think Race Direction took the right decision to run the race as a flag-to-flag, given some concern about the tyres. MotoGP showed it can react quickly and responsibly to a difficult situation and still provide good entertainment for the fans. Bradley's start was amazing and he was strong throughout and it was great to see him right in the fight with the best in the world. I am very happy and proud of the efforts of everybody in the Monster Yamaha Tech 3 Team for doing a great job on such a complex weekend. Now we go to Japan, which is such an important race for Yamaha, optimistic that we can see Cal and Bradley battling close to the front again."