Inside the top 10 for the fifth race in a row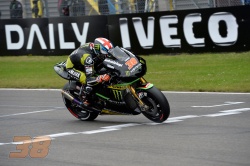 Posted on Jun 30, 2013 by Monster Yamaha Tech 3
Bradley Smith produced yet another hugely encouraging display, the British rookie finishing inside the top 10 for the fifth race in a row.
Starting alongside eventual winner Valentino Rossi and Pedrosa on the second row after a career best qualifying performance, Smith did his best to keep himself in the hunt for the top six in the early stages to try and gain vital experience from the fastest riders in the world.

Bradley Smith 9th – 41 points:
"With my wrist injury continuing to cause me a problem, today was probably my hardest race of the year. After the operation immediately after Catalunya I expected it to be better than the last two races but to be honest I have a few more problems now. So it was a good race and to be able to get ninth on the last lap is a good situation. The distance to Bradl was quite similar to Barcelona and truthfully this ninth feels better than the sixth I got in Barcelona because today I really had to battle and nobody crashed. The gap to the front is quite similar to Barcelona and obviously the big positive of the weekend was starting on the second row. I knew finishing seventh was going to be a best case scenario because I knew Jorge was going to be coming through. I stayed consistent and my pace in the second half of the race was strong. I still need to work on the set-up for the early laps but I can go to Germany with a lot of confidence. I've scored another top 10 and beaten two very experienced riders on the final lap. And hopefully the wrist will be less of a problem at Germany and I can be in a bit less discomfort than here."
Herve Poncharal – Team Manager:
"Bradley had a very positive weekend. Unfortunately the wrist he damaged in Mugello is still causing him some considerable pain, so to qualify sixth and finish inside the top 10 again was a fantastic effort. He never gave up and he remained very consistent and to get a top 10 on the last lap from two riders with incredible experience like Nicky and Andrea will give him some confidence for the future. Finally congratulations to Valentino and Jorge. It is great for Yamaha and MotoGP to see Valentino winning again and I am lost for words to describe Jorge's performance. He showed why he is World Champion today and I am sure he was pleased to see Cal finishing ahead of Dani for the standings."