Red Bull KTM Factory riders looking forward to race day after qualifing at Spielberg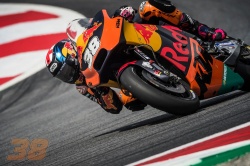 Posted on Aug 12, 2017 by Red Bull KTM Factory Racing
Under the shadow of the Styrian mountains at the Red Bull Ring, Spielberg, the Red Bull KTM MotoGP Factory Racing team today attacked qualifying for the Austrian MotoGP race with a 16th, and 18th and a 22nd place with all riders taking huge confidence to the race in terms of race pace for all three KTM RC16 bikes entered. Pol Espargaro headed the charge with test rider Mika Kallio – as a wildcard – right on his tail in only his second race weekend of the season. Bradley Smith has found pace with his No.38 bike this weekend, again confident for points in the 28 lap race tomorrow.
Fresh from his 9th place in last Sunday's Czech MotoGP, Pol Espargaro pushed hard around the Spielberg mountain side circuit to be the leading KTM just under 0.2 ahead of KTM MotoGP test rider Mika Kallio who is making his second race appearance this year. Kallio hasn't ridden the KTM RC16 as much as the regular team riders this year but was mighty in qualifying. He was held up a little towards the end of his fast lap by another rider causing him to lose time but he was content with his race pace found in free practice. Bradley Smith dug deep today to get onto the frenetic pace of MotoGP in this current era eventually being just 1.6 off the pole position and yet in 22nd position.


Bradley Smith (Factory Rider MotoGP):
"Today was a positive day finding some progress with the front of the bike as through FP4 I tried some different tyre combinations that made me more comfortable resulting in my race pace to be good and consistent towards a low 1m 25sec. If I can do that tomorrow we can have a chance of being in a good position. Qualifying was a little frustrating as on the second run I had a brake problem so the second tyre didn't quite get the full treatment from me. I'm on a good side of the track off the grid for turns one and two so hopefully I can put on a good show and get a great result for the thousands of KTM fans here in Austria."

Sebastian Risse (Technical Director MotoGP):
"First of all let me say that being here at the home race with so many people here is something very special for the KTM team. Talking technically, this afternoon to get the tyres to work when the conditions have changed after the rain and cooler conditions has been hard, but we did a big learning curve today after we 'lost' yesterday with a little rain. However, we dug in and although the qualifying result doesn't look too bad I think our race pace is much better in relation to the others on the grid."

Races: August 13, 2017 – Moto3 11:00 | Moto2 12:20 CET | Moto2 14:00 | Red Bull Rookies Cup 15:30