KTM MotoGP™ Fan Package 2017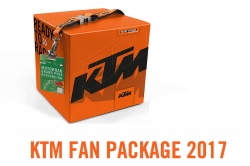 Posted on Dec 13, 2016 by George Penny
The 2017 MotoGP is set to take place in Austria once again – and the KTM team is back with an impressive line-up!
From August 11 through 13, 2017, the best riders in the motorcycle world championship will be demonstrating their unique motorsport skills for the second time at the Austrian Red Bull Ring, the most popular Grand Prix venue on the 2016 world championship calendar. And for the first time, KTM will be represented in all three classes in the 2017 race: Following years of success in the Moto3 championship, the 2017 season will see KTM enter the Moto2 championship with a chassis developed in collaboration with WP. What's more, the KTM MotoGP factory team will be entering the fray for its first full season after competing as a wild card entry in the 2016 season finale in Valencia. With the KTM FAN PACKAGE, KTM fans have the opportunity to watch the premier class of motorcycling live in action once again in Spielberg.
Flanked by the "Bull" and with a seating capacity of more than 8,000 right in the infield, the KTM grandstand represents the heart and soul of the Orange Family. As well as admission to the event from Friday to Sunday, the KTM FAN PACKAGE also includes the following exclusive benefits:
KTM FAN PACKAGE 2017
- Seat in the KTM grandstand (center stand)
- KTM HomeGP t-shirt
- KTM HomeGP cap
- KTM HomeGP lanyard
- Exclusive motorcycle parking space (KTM parking only)
- Coupon for a meal + drink
- KTM earplugs
- Price: 179 euros per package*
*Price includes 20% Austrian VAT and may differ in other countries.
Contact a KTM dealer now to reserve your KTM FAN PACKAGE for May 2017.