The Le Mans weekend begins with bad weather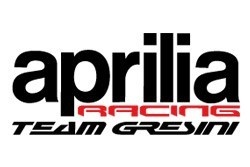 Posted on Oct 09, 2020 by Aprilia Racing Team Gresini
In what, if the forecast is accurate, should have been the worst day of the weekend weather-wise, the riders had no small difficulties adapting to the treacherous French asphalt of Le Mans.
In the morning session, on a completely wet track, Bradley Smith finished at the top of the list, showing incredible feeling astride his Aprilia RS-GP. The afternoon was a different story, with the asphalt drying out, but still maintaining a low level of grip. Both Bradley and Aleix paid the price for it, crashing in FP2, fortunately without suffering any major consequences.

Bradley Smith
"Aside from a little pain, it wasn't a bad day for us. This morning I really felt at ease in the wet and, for what it's worth, it is always great to take the Aprilia to first place, also as a sign for everyone working from home. To be honest, I had a good feeling this afternoon too until a wet spot sent me to the ground. Unfortunately, in these conditions there's not much you can do. Even the electronic controls struggle to detect such rapid changes in grip. In any case, it is still important for us to get out on the track and understand it and how it behaves. I prefer a crash today over ruining something more important on Sunday."