Mission accomplished for Bradley Smith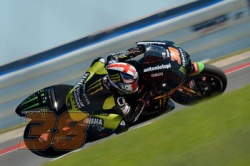 Posted on Apr 22, 2013 by Monster Yamaha Tech 3
It was mission accomplished for Bradley Smith in the 21-lap race as he gained priceless experience by guiding his YZR-M1 machine home to his first point scoring finish in his rookie campaign.
Opting to run Bridgestone's hard compound front tyre for the first time all weekend, Smith gradually built up his confidence and an impressive charge in the second half of the race saw him set a personal best lap of 2.06.415 on the penultimate lap to finish in 12th position.
That was 0.3s faster than his best qualifying lap and the confidence and experience gained this weekend means Smith heads to Jerez next month optimistic that he can battle for a maiden top 10 finish.

Bradley Smith 12th – 4 points:
"I am really happy to finish the race because what I learned over a full race distance was priceless. I ran the hard front tyre on the advice of Bridgestone and while it was definitely the right choice, it took me a few laps to understand how it was working. The last thing I needed was to push too hard and make another mistake like in Qatar but the best thing about the race is I got faster and faster. I was quicker as in qualifying on the penultimate lap of the race, and that's a sign of how much better I was riding the bike. I am learning more and more about the bike on each lap and I can go to Jerez now confident that I can be even more competitive and the goal will be to get closer to the top 10. Finally I can't praise my Monster Yamaha Tech 3 Team enough. After the garage fire on Wednesday night it really put everybody on the back foot, but we all rallied round and it is nice to see both Cal and I finish in the points to reward their hard work.
Herve Poncharal – Team Manager:
"That was a very good first race here in Texas. Bradley had a good race and he did exactly what he had to do after the crash in Qatar. He was calm at the beginning but once his confidence grew he got faster and faster and at the end he was as quick as a lot of those inside the top 10. This will give him a big boost and also the experience he is lacking, so we can look forward to an even stronger challenge from him in the next few races. Cal and Bradley did an awesome job but so did the whole Monster Yamaha Tech 3 Team. We didn't test here and that put us at a disadvantage and after the fire on Wednesday night our preparations were far from ideal. So to get this result in a crucial race for Yamaha and Monster Energy is extremely satisfying."