Mixed day for Bradley at round two of the QIRRCH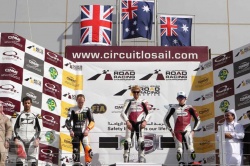 Posted on Jan 13, 2013 by George Penny
Bradley enjoyed a good days racing yesterday in the Qatar International Road Racing Championship (QIRRCH) despite experiencing mixed results.

Smith initially struggled with the set-up of his race prepared Yamaha YZF-R1, but with the addition of a new clutch and brakes set the 2nd fastest time in the morning warm-up.
Starting from fourth on the grid Bradley unfortunately bogged down on the start and dropped back to 7th but battled back to 2nd place by lap 10.
He finished second in race 1 despite a few problems, and running off track early on, and unfortunately DNF'd in race two after losing 3rd gear, on a circuit that is prodominantly a 3rd gear corner track, whilst running second just behind Anthony West.