Motocross Training in Malaysia 2013 Gallery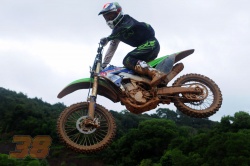 Posted on Feb 12, 2013 by George Penny
Various images of Bradley riding motocross at Monica Bay (Pantai Teluk Mak Nik) Kemaman, Malaysia as part of he pre-season training. Special thanks to Chear Motor for sponsoring the dirt bike and to Kemaman Motocross (KMX) for the track and hospitality.

Photos courtesy of ©Graphiccancer Photography
You can visit the gallery here.