MotoGP tests in Valencia come to a close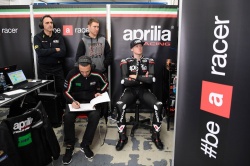 Posted on Nov 21, 2018 by Aprilia Racing Team Gresini
The preparatory work for the 2019 season continued today in the Aprilia Racing Team Gresini garage, busy on the second and final day of tests in Valencia.
There was plenty of work for the Aprilia Racing Test Team, with two RS-GP machines entrusted to new-entry Bradley Smith. On today's 58 laps, the English rider mainly looked for a base setup on which to then work in the next tests, testing new components and technical solutions. His best lap stopped the clock at 1'33.028.

Bradley Smith:
"It was nice to do several laps with the new bike and the new team today. Our goal is first and foremost to gain familiarity with the RS-GP, find a base setup that will then allow us to better assess the various technical upgrades that we'll need to test as our experience grows. We worked a lot on the electronics and we made some slight changes to the suspension calibration, reaching a level where I am more at ease. I adapted rather quickly. I didn't struggle too much to find a good position in the saddle and I can't wait to get back on the track in Jerez to give the guys more information so we can prepare the 2019 bike as best as possible."