Never say never is published on Thursday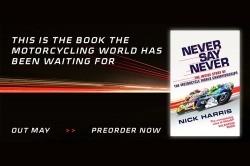 Posted on May 22, 2019 by George Penny
Celebrating the 70th anniversary of the Motorcycle World Championships, legendary commentator Nick Harris – 'The Voice' of MotoGP – chronicles seventy years of drama, adrenaline, tragedy and celebration in brand new book, Never Say Never – published by Virgin Books on this Thursday 23rd May 2019.
For 40 years Nick travelled the world reporting and commentating on MotoGP, and this rare privileged access has given him unparalleled insight into this incredible sport. From a motorcycle trip across Argentina the week before the Falklands war, to ignoring the apartheid travelling ban in South Africa, Nick has witnessed a changing world developing alongside the highs and lows of the greatest motorcycle races of all time.
In a white-knuckle ride through the twists and turns of Grand Prix Motorcycle Racing, Nick Harris provides a new, mostly eye-witness account of the history of MotoGP, the battles and feuds both on and off the track, the remarkable personalities and the great tragedies of the sport from 1949 to present day.
As a trusted insider, Nick got to know Valentino Rossi, Barry Sheene, Giacomo Agostini and Mike Hailwood as individuals. He saw feuds unfold, champions made and careers ended, and in Never Say Never, he shares the real stories behind the greatest legends of the sport. This is the book the motorcycling world has been waiting for.