New competition on facebook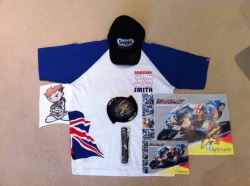 Posted on Dec 29, 2010 by Dominic Rushton
We would like to send a BIG thank you to the 1600 people that have liked Bradley's facebook page since we launched it in September, and with that it's another prize month on Bradley Smith Official! This weeks prize consists of:
a Monster keyring
a signed poster/ postcard
a "Bradley Dude" wall sticker
one of Brad's actual knee sliders from 2010 - signed!
Brad's actual Shoei cap - signed!
one Union Jack tee shirt from the 2011 collection in any size
Head on over to his facebook page to see how to enter.
Thanks again to all,
The BS38 Team