No signing too big for Smith!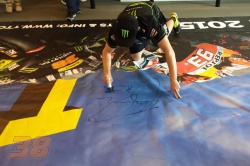 Posted on Jun 30, 2015 by George Penny
Bradley was asked to sign this massive 7x4 meter banner for the Motul Dutch TT featuring himself, Valentino Rossi and Marc Marquez, as part of his promotional duties for Monster Yamaha Tech3.
The banner was then presented to him on Saturday nigh as a gift from the media team at the TT Circuit Assen which Bradley is extremely thankful for…. all he needs to do now is find somewhere large enough to display it!